COMMUNITY BEAUTIFICATION
Keep Omaha Beautiful works to provide opportunities for volunteers to help sustainably beautify neighborhood areas and other public spaces; this often entails working with neighborhood residents to help conserve natural resources and protect the environment.
We identify and implement community beautification projects throughout the City of Omaha. One of our current beautification projects takes place at 3101 Florence Boulevard, where we're working with local neighbors to revitalize a vacant lot into a safe space for community use.
Vacant lots can often become a hazard for neighborhoods, resulting in illegal dumping. While some of these spaces can be redeveloped, there are cases in which the property is not suitable for purposes like building a home or growing food in a community garden.
That's where we come in, implementing sustainable beautification practices to turn the lot into a well-maintained, beautiful space. The lot at 3101 Florence is being transformed into an attractive community space, a great outlet for stormwater management, and a source of pride for the neighborhood. We are also working with Lothrop Elementary and King Science & Technology Magnet Center to incorporate the development of the lot into inquiry-based lessons with the students.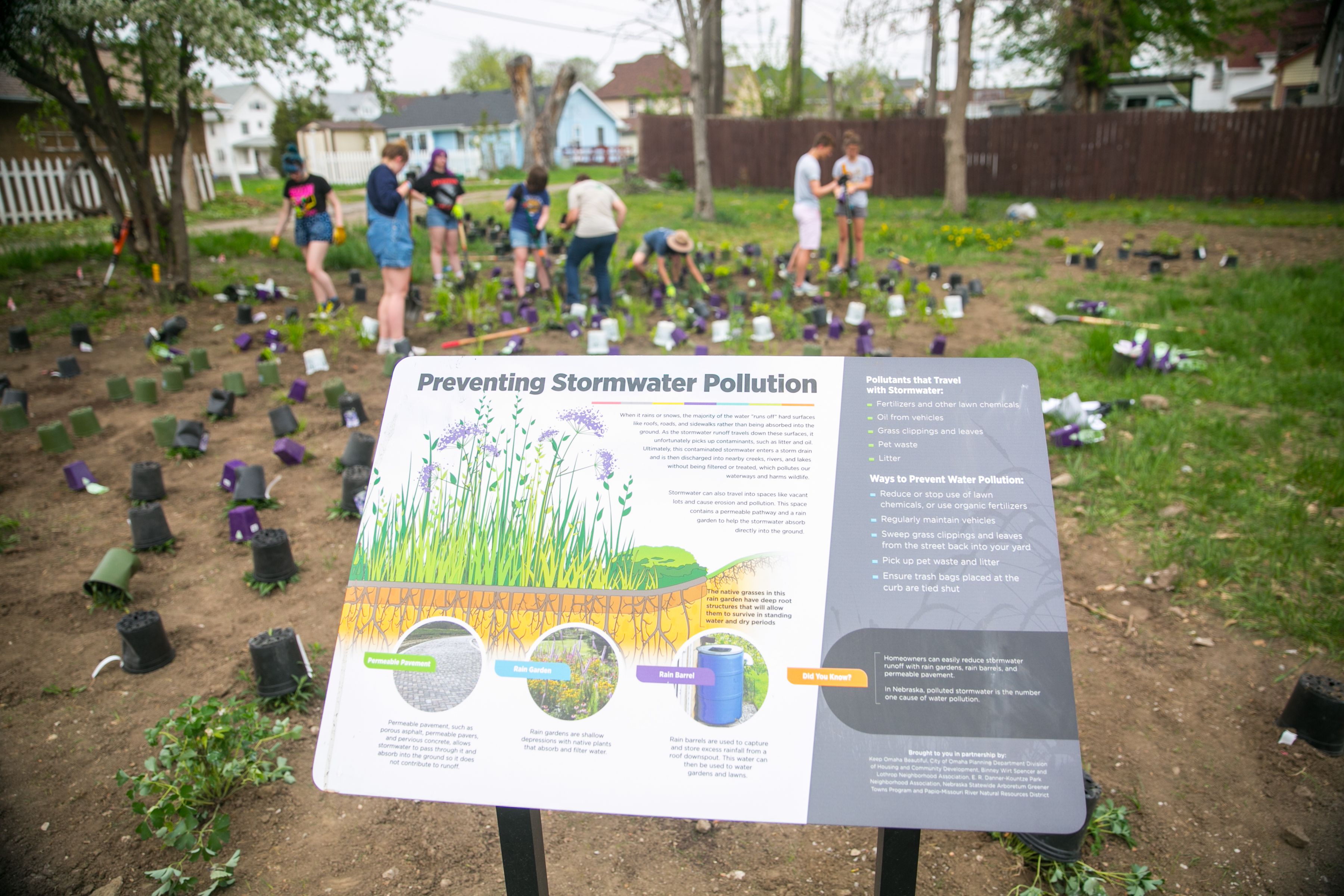 Progress at Sustainable Spaces Lot
Planted native flowers and grasses to create pollinator gardens
Installed a permeable path and a rain garden to help stormwater absorb into the ground
Trimmed the existing trees to make them more attractive and healthier
Designed and installed educational signs and an introductory sign for the property
Installed benches to provide a place for neighbors to sit and enjoy the space
Developed and planted a specialized seed mix to provide an attractive, low-maintenance alternative-to-traditional lawn - this alternative lawn contains native flowers and grasses that will require no watering and minimal mowing
Collected and propagated seeds with local school students
Trained volunteers for long-term maintenance